Mark Twain's Greatest Adventure:
It's a Matter of Time
The date of principal photography will be announced for a new feature film titled, Mark Twain's Greatest Adventure: 'It's a Matter of Time'. (visit Official Web site at: http://www.twaingreatestadventure.com

Written and directed by Verne Nobles, the film stars Ron Masak (pronounced May-sack) as Mark Twain, and Ken Howard as Arthur Conan Doyle. Other major characters not yet cast are Jules Verne and H.G. Wells.

Ron Masak is a familiar face in movies and on television, with a career that began in the late 1950s. He played Sheriff Mort Metzger in "Murder She Wrote" from 1988-1996. In recent years, he has developed a one-man stage show titled "At Home with Mark Twain." For complete details of Ron's career, visit his official web site at: http://www.ronmasak.com
Ron Masak as Mark Twain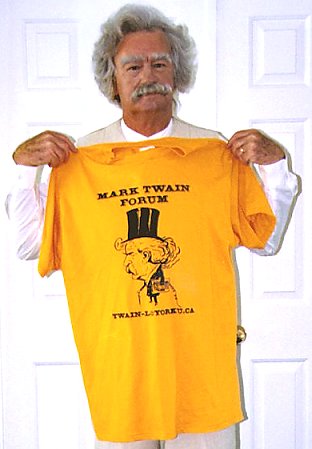 Mark Twain (Ron Masak) proudly displays his Mark Twain Forum t-shirt

Ken Howard is familiar to Twainians for his long and distinguished acting career. No stranger to portraying literary characters, Howard appeared as Sam Clemens in "Bonanza" in "The Twenty-Sixth Grave" in 1972. Ken Howard also played the title character in the PBS production of "Pudd'nhead Wilson" in 1983. For complete details of Ken's career, visit the Internet Movie Database at: http://us.imdb.com/Name?Howard,+Ken
Lise Humboldt as Roxy and Ken Howard as David Wilson
in the 1983 PBS production of "Pudd'nhead Wilson"
Synopsis of "Mark Twain's Greatest Adventure: It's a Matter of Time" (adapted from the Internet Movie Database):
"It's a sci-fi, time travel, action adventure, comedy, drama, mystery all rolled into one as Mark Twain on the way home from one of his last speaking tours in 1906, is jostled on a train by two men, one in pursuit of the other. Twain picks up a newspaper that one of them drops and the headline reads 'Manned Mars Mission.... A Go!!!' and the paper is dated with the year 2003.
"He follows them into a cave with a mysterious blue light and it turns out he is following H.G. Wells, who, in turn, is on a time travel chase of Dr. Noah, a brilliant scientist who has gone mad with intentions of destroying the world. Through time travel, Wells and Twain team up with Sir Arthur Conan Doyle and a young Jules Verne. They wind up in the year 2003, seeing results of their writings that help in their attempts to find Dr. Noah and save the world from destruction."
Visit the Official Mark Twain's Greatest Adventure Web site at:
http://www.twaingreatestadventure.com
For a "Sherlockian" look at Mark Twain's Greatest Adventure visit:
http://www.lafterhall.com/sherlock11.html
Production stills and other details about the film will be posted to this page
as soon as they are available.