In Memory of Bill Erwin


Star of Stage, Screen,
Radio and Television

December 2, 1914 - December 29, 2010
---
December 2, 2014
Today would have been Bill's 100th birthday. He told us during one of our trips together that he was feeling great and added, "I think I'll just have to live until I'm 100." However, 96 years was an extraordinary run and he was able to work on television until he was 91. When one door closed for Bill because of advancing age, he always looked for new opportunities like doing voice work or honing his skills as a cartoonist. He embraced life and often said, "I'll keep at it as long as I can wiggle."
We think of Bill often and always with deep affection. He was a great friend who truly loved people. We were so fortunate to be the recipients of his love and friendship and to be able to return it as well. His kind and generous spirit is a memory we will always cherish and try to emulate.
With love,
Pegge and Kevin
July 10, 2014
Rolling Stone published a list of the 100 best Seinfeld characters. Bill is #63 on the list for his hilarious performance as the title character in "The Old Man."
To watch a clip from Bill's Emmy-nominated performance go to:
https://www.youtube.com/watch?v=XmCRWUBYpyg
July 1, 2013
Since Bill's passing in 2010, I have received many wonderful messages from people who knew Bill Erwin. I'd like to share one with you that literally illustrates Bill's consideration and kindness. --Kevin B. (With thanks to C.A. for permission to reprint her memory and note.)
"My name is C.A. Jordan and I used to work as a waitress at Vitello's restaurant in Studio City in 2001-2002. Bill was a regular who came to dine early in the evenings, usually ordering the same meal with 1/2 carafe of house wine. He was always a pleasure to serve because of his easy-going demeanor and down-to-earth attitude. At that time, I didn't really know "who" he was, only that he was "somebody." One night, he had forgotten to leave a tip for me, but I didn't really mind because he was so nice. The next day, I arrived at work to find a tip from him enclosed in an envelope, with a nice note and drawing on it. I have kept that envelope for all these years, and now have scanned it to send in to your tribute site."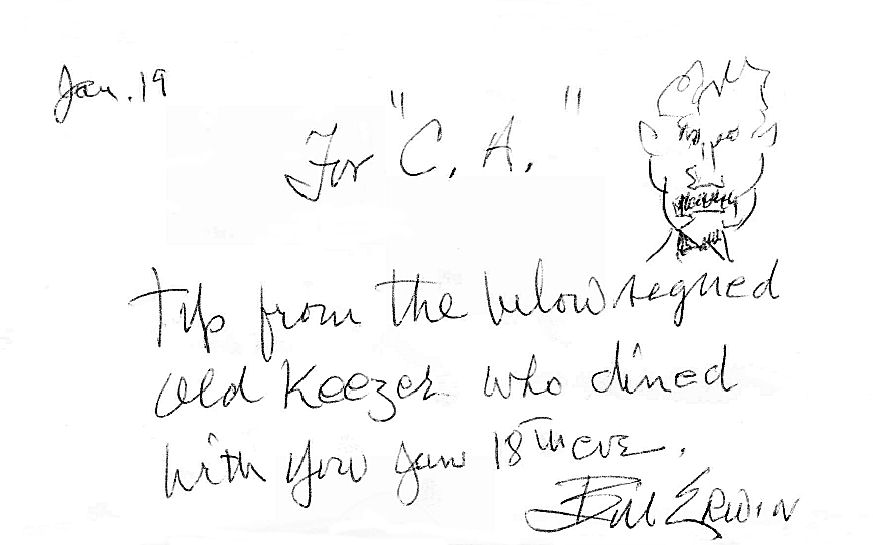 ---
December 2, 2012
It would have been Bill Erwin's 98th Birthday today. Those who had the privilege of knowing Bill will never forget him. This web site will continue to be maintained as a tribute to his memory and for future generations to appreciate his long and productive career. Bill's favorite roles were: husband, dad, granddad, great grandad and uncle to his loving family--and valued friend to just about everybody else.
We love you Coco!
"I love people. Nobody is a stranger to me." --Bill Erwin
~~~~~
December 2010
It is with deep sadness that I report the passing of Bill Erwin. He died peacefully at his Los Angeles home on December 29, 2010, with his family at his bedside. Bill's achievements during his long and happy life are many, but the one of which he was most proud was his loving family.
This site will continue to be maintained as a celebration of the life and career of Bill Erwin.
Your comments and suggestions about the web site are welcome. If you wish to share your comments on Bill's life and career on a special page of tributes and remembrances, please contact me at the e-mail address below.
Do you have photos of Bill, programs or other memorabilia you would like to share with visitors to the Bill Erwin Web site? Scans would be most appreciated. Please contact me if you would like to see them on this web site.
Kevin Bochynski, a friend of Bill's
---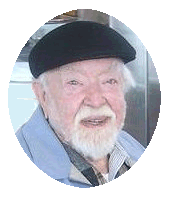 "There is a vast generational gap between my mind and my body.
My body has a long white beard, but my mind hasn't started shaving."—Bill Erwin
BIOGRAPHY
Bill Erwin was born "William Lindsey Erwin" in Honey Grove, Texas, on December 2, 1914. (see photos of Bill's visit to his hometown)
Bill graduated from the University of Texas at Austin in 1935, earning a Bachelors degree in Journalism. He completed a Masters of Theater Arts degree in California at the Pasadena Playhouse in 1941. After serving as a Captain in the Army Air Force in World War II, Bill returned to Hollywood to resume his acting career. His first film role was in 1942 in "You're in the Army Now," with Phil Silvers.
A long-time "grape-plucker in the vineyards of Hollywood," Bill Erwin was active in bi-coastal American theatre for more than half a century--and said he intended "to keep at it until he gets it right."
Bill's awards include an Emmy nomination in 1993 (Guest Star in a Comedy Series - "Seinfeld"), a Los Angeles Drama Critics Circle Award (Outstanding Leading Role - "Old Friends," at the Actors Forum), four Drama-Logue awards, and the Gilmor Brown Award for Career Achievement. He has television credits in both Los Angeles and New York. His honors in 2004 included the Pacific Pioneer Broadcasters' Diamond Circle Award and a Distinguished Alumnus Award from Angelo State University in San Angelo, Texas.
In mid-August, 1998, Bill was on location in Savannah, Georgia, appearing in "Forces of Nature" with Sandra Bullock and Ben Affleck. The film was released in March 1999.
At 85 years-old, Bill appeared as "Eli Hamilton" in the Jean-Claude Van Damme action-adventure film, "Desert Heat," released in September, 1999.
The year 2000 marked the 20th Anniversary of the release of the romantic classic, Somewhere in Time. Bill portrayed "Arthur," the Grand Hotel's venerable bellman, co-starring with Jane Seymour and Christopher Reeve. Bill was among the honored guests as INSITE (The International Network of Somewhere in Time Enthusiasts) celebrated the enduring popularity of the film at events in Chicago, Hollywood,(click for photos) and at the Grand Hotel on Mackinac Island, Michigan, (where the magic all began). Bill appeared in a one-hour documentary about the making of "Somewhere in Time" which was part of the 20th Anniversary DVD release. Bill returned to Mackinac Island in October 2002 for the annual INSITE gathering, along with first-time attendee, Jane Seymour. His last visit to the "Somewhere in Time" weekend at Grand Hotel was in October 2006. Bill was honored with a tribute which featured his photograph on the cover of the official program . On October 28, 2006, a video tribute was shown during the closing festivities in Grand Hotel's auditorium to an audience of over 650 attendees. Bill received a long and heart-felt standing ovation from the audience.
Bill continued to keep busy professionally. In 2001 and 2002. He appeared in "Stanley's Gig" (with Faye Dunaway and William Sanderson). Other films in which he appears are "Down and Dirty," and "Cahoots" (with Keith Carradine). "The Crack in the Floor" (with Gary Busey) was released on DVD and video in April 2001. Bill made television appearances on "The Tonight Show with Jay Leno," "The Michael Richards Show," "Just Shoot Me," "West Wing," and "So Little Time." In August 2002, Bill attended the first-ever "Twilight Zone" convention (click to see photos) in North Hollywood. (Bill appeared in three episodes of the classic show.) In August 2004, Bill attended the second "Twilight Zone" convention, also held in Hollywood.
Bill and his late wife, actress and journalist Fran MacLachlan Erwin, had four children and seven grandchildren and lived in North Hollywood. In addition to his acting career, Bill also wrote children's stories, aphorisms, and published many of his cartoons. In 1997, he wrote, starred and produced a one-man show, "Twisted Twain."
In July 2004, R. Kent Rasmussen dedicated his book, Mark Twain for Kids: His Life and Times: "To Bill Erwin, the youngest kid I know . . ." Family, friends and fans agree that Bill's love for life and for people gave him a youthful outlook throughout his life.
WATCH BILL:
For Bill's upcoming television appearances, click here.
See excerpts or complete episodes from Bill's shows:
At Internet Movie Database (imdb.com) (Click on icons at the top of the page for complete episodes or trailers.)
See excerpts Bill's shows at YouTube:
NEWS:
December 2, 2010. Bill topped the list again as the senior ranking celebrity birthday at 96. News outlets across the country carried the story in print, broadcast media and on the web. Happy Birthday, Bill!
December 2, 2009. Bill was featured in The Associated Press's "On This Date" column as the senior ranking celebrity birthday at 95 years-young! Newspaper, radio, television and Internet news services carried the story. Happy Birthday Bill!
October 26-29th, 2006. Bill returned to Mackinac Island, Michigan, for the 16th Annual "Somewhere in Time" weekend at Grand Hotel. Bill's photo as "Arthur" was featured on the cover of this year's program. He was also honored at the Finale Program on Saturday night in the hotel's theater with a video of selected highlights from his career. Follow links at the bottom of this page for photos from past weekends on Mackinac Island. Photos from the 2006 event will be posted soon.
If you have photos of Bill not already on these pages and would like to share them for possible use on this Web site, please contact Kevin Bochynski at: kevb@bochynski.com
October 19, 2006: Bill's most recent guest appearance was on the hit television show, My Name is Earl on Thursday, October 19 at 8 p.m. (Pacific) in an episode titled "Van Hickey."
Bill continues to do voice work. To hear a sample of his work as Mark Twain in a recent documentary on spelling reform, go to:
http://www.childrenofthecode.org/code-history/index.htm
August 2005: Bill Erwin has been designated an Honorary Life Member of both the Academy of Motion Picture Arts and Sciences, and the Academy of Television Arts and Sciences. Congratulations, Bill, on this well-deserved recognition of your distinguished film and television career!
During the week of March 21-27, 2005, Bill's episode for Twilight Zone Radio was broadcast on select radio stations in the U.S., on satellite radio, over the BBC airwaves, and worldwide via the American Forces Radio Network. "90 Years Without Slumbering" was adapted from the original series' teleplay. Bill plays Sam Forstmann, a man obsessed with his antique grandfather clock.
In 2004, Bill guest starred on "The King of Queens" (April 7) and the WB hit show, "Everwood" (April 19). He also appeared in the pilot of National Lampoon's "Gordo's Road Show."
He was guest star in the episode "Mr. Monk and the Very, Very Old Man" on the hit USA Network series, "Monk" on Friday, July 25, 2003, which also aired on ABC in 2004. Bill played the son of a 114 year-old murder victim. Click here to read an interview with Bill about his guest appearance on "Monk."
---
Bill, Jean-Claude Van Damme and Kevin West
on the set of "Desert Heat," July 1998
(Go to Photo Gallery below for photos of Bill in "Desert Heat" as "Eli Hamilton")
or
Click here to see "Desert Heat" pictures now
---
Daughter Kelly and Bill,
1995
---
Table of Contents
Highlights of Bill's Acting Career

Visit the Bill Erwin Photo Gallery
Photos of "Somewhere in Time" Weekend, 2006
Photos of "Somewhere in Time" Weekend, 2005
Photos of "Somewhere in Time" Weekend, 2004
Photos of "Somewhere in Time" Weekend, 2003
Photos of "Somewhere in Time" Weekend, 2002
Photos of "Somewhere in Time" Weekend, 2001
Photos of "State of Mark Twain Studies Conference, August 2001
Highlights of Bill's 86th Birthday Party, Dec. 2, 2000
Photos of "Somewhere in Time" Weekend, 2000
Photos of "Somewhere in Time" Weekend, 1999
Read about Bill's One-Man Show, "Twisted Twain"
Read about Bill's Guest Appearance
on "Star Trek: The Next Generation"
Script of Bill's Guest Appearance
on "Seinfeld" in "The Old Man" episode
---
This web site created for Bill Erwin by Kevin Bochynski
With thanks for images provided by Jo Addie, Lynn Anderson, Kim Endahl, Carolyn Freeman, Bill McPhie,
Kathleen O'Quinn, Kent Rasmussen, Barb Schmidt, Bill Shepard, Mary Ann Thurman
and Gary and Jen Waagenaar.
Updated 12/2/14
---

Good-bye, thanks for dropping in. Come see us again soon!

Send comments to: kevb@bochynski.com
Site maintained by


If you enjoyed Bill's web site, please let us know by casting your vote at "Star Pages."
(Click below to vote).